Click for larger picture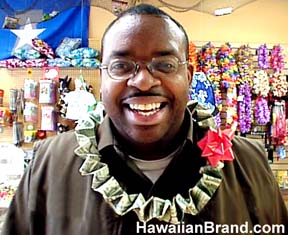 Lei made out of dollar bills
- It's a very local tradition to give away a
Money or dollar lei. So in case of emergency,
you can actually use your lei! and believe me,
you will NOT be allergic to this lei, nor will
this money lei die! it's a keepsake FOREVER.
Your loved ones will surely get a KICK out
of this lei. Unique and guarantee after your
special occasion is over, the only lei you
will remember is this MONEY LEI
- as a reference, on the first picture, the
shorter lei is made out of (30) dollar bills,
while the money lei is made out of (50)
dollar bills. We have 3 sizes..
(30) bills, (38) bills, (50) bills

- Come see Retail showroom in Vegas
- call toll free 1-877-398-1688 now!
Prices are as followed. All Leis made out
of REAL USABLE US DOLLAR BILLS!
(30) bills - $50.00
(38) bills - $80.00
(50) bills - $98.00
Stock # Leis-dollar order this item

Ordering Instructions hawaiian seatcovers
Toll-Free Call (877) 398-1688
or (702) 320-6376

Call order in for fastest service
Shipping & Handling
- Shipping is $10 for USA, FEDEX
- It will take Approx. 1-3 weeks for delivery
- Please read return policy
- Questions? or call 702.320.6376

On order, please specify
Total Price (including Shipping)
Stock Number



i.e