COOK HAWAIIAN
50th Maui Cook book
Ohana Style cookbook
Hawaii's Best Desserts
Tasting Paradise
Island Cooking
Spam Cookbook V2
Spam Cookbook V1
OTHER BOOKS
Pidgin to da Max
Hawaiian Dictionary
learn to speak hawaiian
Don't See it, Ask us, and call toll free!
or send us an email...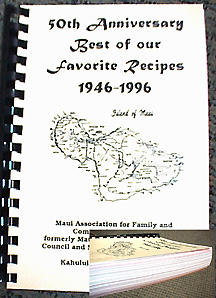 gotta have your!
(Brown) The Best and Most Popular Books
for Cooking the Hawaiian (local) Way!
The Buggah(Book) is Tick (thick!) too!
stock number #50mauicookbook









Ohana Style Cookbook
Another good one with plenty recipes
stock#ohanastylecook









Hawaii's Best Local Desserts
here's all the secrets on desserts
stock #hawaiidessertcook












Tasting Paradise - Hawaii's restaurant recipes
recipes from Famous restaurants in Hawaii
stock #tastingparadisebook










Hawaii's Island Cooking
More Local Style Cooking
stock #Islandcookingbook












Hawaii's SPAM COOKBOOK V 2
2nd volume of the best selling SPAM Cookbook
stock #Spamcookbook2
also get Spam Cookbook volume 1
Stock #Spamcookbook1










So you wanna live in Hawaii?
A must have if you are planning or
considering moving to Hawaii..
stock #Wannalivehawaiibook





PIDGIN to DA MAX
Volume 1 and 2
sorry no picture, but we get da book.
for all you folks who's not season with
the island speak, here's the definate book
to get..

CALL TOLL FREE
(877) 398-1688
??'S Stock # RECIPE ASK